Vipassana Meditation – 15 day retreat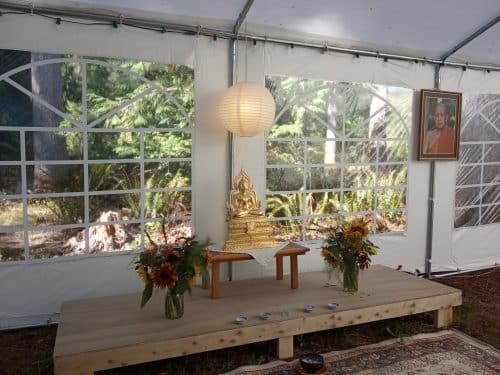 On August 14th-29th, the Samaggi Dhamma Vipassana meditation center, will be hosting a 15 day meditation Vipassana meditation – An on-site intensive monastic style course, with tenting on the property
Follow this link for more details
Offering a 15 day basic course for first-timers and 10 day retreat for those who have already completed a basic course. Shorter stays of a minimum of 5 days are welcome if there is space; applicants doing a full course will be given priority. Accommodation is camping style in comfortable tents with an outdoor toilet and shower facilities and all the meals are vegetarian but not vegan or gluten free.
The course will start on Saturday the 14th at 9 am with the traditional opening ceremony, first instructions and then lunch.
Hornby Islanders should try to arrive at 8: 30 am and off-islanders on the day before so you can be settled in and ready to start on Saturday
For more background;
Edward Kooij  and Jodi Snijders practice and teach Vipassana Kammatthana or Insight Meditation as instructed by their Teacher the late Venerable Ajahn Tong Sirimangalo, a well respected and loved Buddhist meditation master from Northern Thailand. On their rural forested property, they offer a place for people to come and find out the benefits of Vipassana practice. For the last few years in the month of August, Edward and Jodi have taught a basic course for new meditators and a 10 day retreat for experienced meditat. Amenities are simple: camping style for the August retreat with outdoor hot showers, outhouses and tents, and wood heat for the kuti with water….and yes, there is electricity! Meals are vegetarian.